Handwriting
At Stanton St Quintin, when children start school they are taught to write in print. From Year 1 onwards, children progress to forming letters using a pre-cursive style. This supports an easy transition from unjoined to joined letters; usually in Year 2.
When forming pre-cursive letters in Year 1, all letters start from the line and have a lead-in and lead-out line.
In Nursery and Reception, children start by exploring mark making within the learning environment using a variety of different sensory approaches, such as forming marks in sand, chalk, foam, on paper and much more. As children progress through Reception, these marks progress to resemblance of printed sounds they have learnt during phonics.
As children progress through Key Stage 1, their handwriting style develops and as children progress through Year 2, they explore the correct letter joins. We teach horizontal and diagonal letter joins. Please see the letter joins document below.
Throughout Key Stage 2, children begin to develop their own style, whilst continuing to adopt the correct letter joins. They are working towards achieving their Pen Licence and begin to use pen instead of pencil.
How can I help my child at home?
If you are supporting a Reception child, it is important to use a printed style of writing ("normal" writing.)
From Year 1, it is important that you also model a precursive style when writing at home with your child. Please see the guide sheet below.
Any handwriting practise is of great value to your child. Once children are able to form letters naturally and without too much thought, their attention is able to turn to what they are writing and the quality of this.
Printed letters (Nursery/Reception):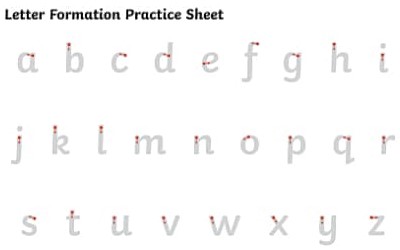 Pre-cursive letters (Year 1 onwards):