World Book Day 2020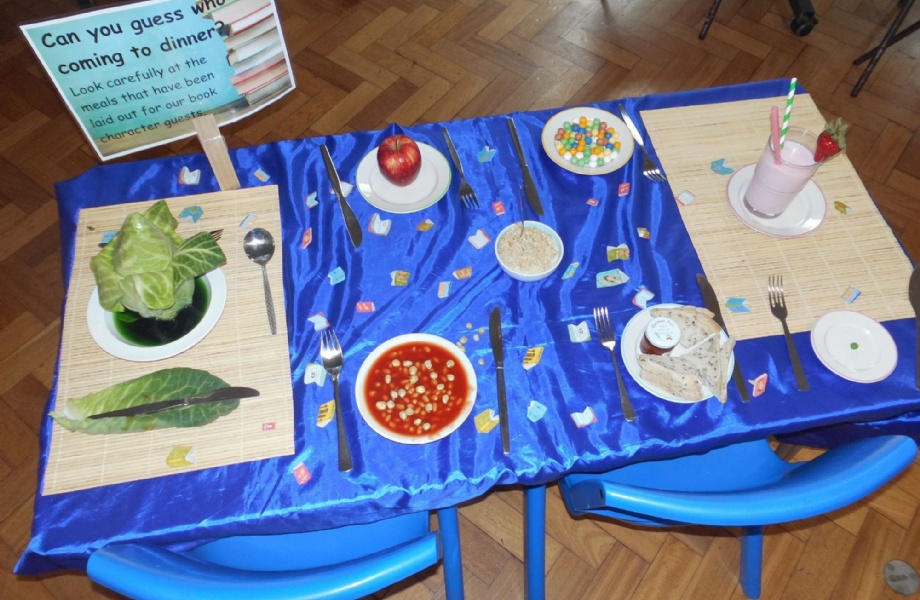 Wow- what a day we've had here at Stanton on World Book Day! We have been blown away by the efforts made by the children and their grown-ups, to create an exciting collection of imaginative book characters, which we thoroughly enjoyed guessing during our World Book Day parade this morning. This sparked lots of lovely discussion about our favourite books and characters too.
Following this, the children were treated to this year's staff performance of 'Supertato' written by Sue Hendra. There was an evil pea on the loose in the supermarket (our transformed school hall), causing havoc wherever she went! She sticky-plastered poor carrot to the conveyor belt, and drew a moustache and glasses on broccoli, and poor old cucumber was mummified with toilet roll bandages! But never fear, Supertato was here to save the day! The smiles and giggles were evidence that the children enjoyed being immersed in a popular children's book as they watched it being brought to life.
After a much needed break from all the dramatics, the children completed their book doors trail, exploring 21 doors throughout the school and trying to guess the book. For many this resurfaced memories of books enjoyed when they were younger and the book talk that came from this was wonderful. Hearing the children's excitement made the efforts of our wonderful team, children, Pantha Club, Mustard Seeds, FOSS and military wives all worthwhile. Thank you to ALL of you who supported our book doors idea this year.
In the hall a table was laid out ready for 8 book character guests and the children had to decide 'who's coming to dinner?' based on what had been served for each character to enjoy. The bowl of bubble gum proved particularly puzzling but the large bowl of cabbage soup was a simpler one to guess!
Back in their classrooms, children took part in some book themed cookery, baking goodies to enjoy at this afternoon's 'Booky Breaktime' and to be sold at our World Book Day cake sale at the end of the day. Stickman logs, rainbow fish cakes, Skellig dead fly cupcakes and Stig of the Dump Rocky 'Dump' adorned the tables ready to be savoured. Thank you for cake donations made from the school community.
After enjoying more wonderful books, we finished the day with an assembly to recognise those who took part in this year's Readathon and announce the winners of the book doors and 'Reading Rocks' stones. We received some outstanding entries and would love to keep hold of these to display (with the children's permission!).
A huge thank you for your support with the day and remember, reading really is wonderfully special.